Oil Cooler With AC Motor & Pump
Product Detail
Product Tags
EHP-OC cooler drive by ac motor ,An inte  grated circulation pump makes it possible to cool and treat the oil in a separate circuit –offline cooling . It mainly used in the cooling of industrial gear box、hydraulic system 、marine drilling platform、wind power generation. Integrated cooler maximum cooling capacity is 46KW at, ETD 40℃。Pump separated with cooler the maximum cooling capacity is 160kw at
ETD 40℃ Our software and engineers can help you to choose the correct and economical
OC motor cooler's maximum dynamic operating pressure is 14bar and maximum static operating pressure is 21bar.The cooler is drive by three-phase ac motor. The motor's voltage and frequency is divided into 380V 50HZ、440V 60HZ and custom voltage. This cooler use the special motor to make the oil pump、motor and fan together to save space , specially fit limited space. This unique design can form independent offline cooling circuit to avoid the lash from system returning oil,also can install filterin cooling unit to form a Cooling transition system . Please contact us under the special voltage and environment.
Technical specification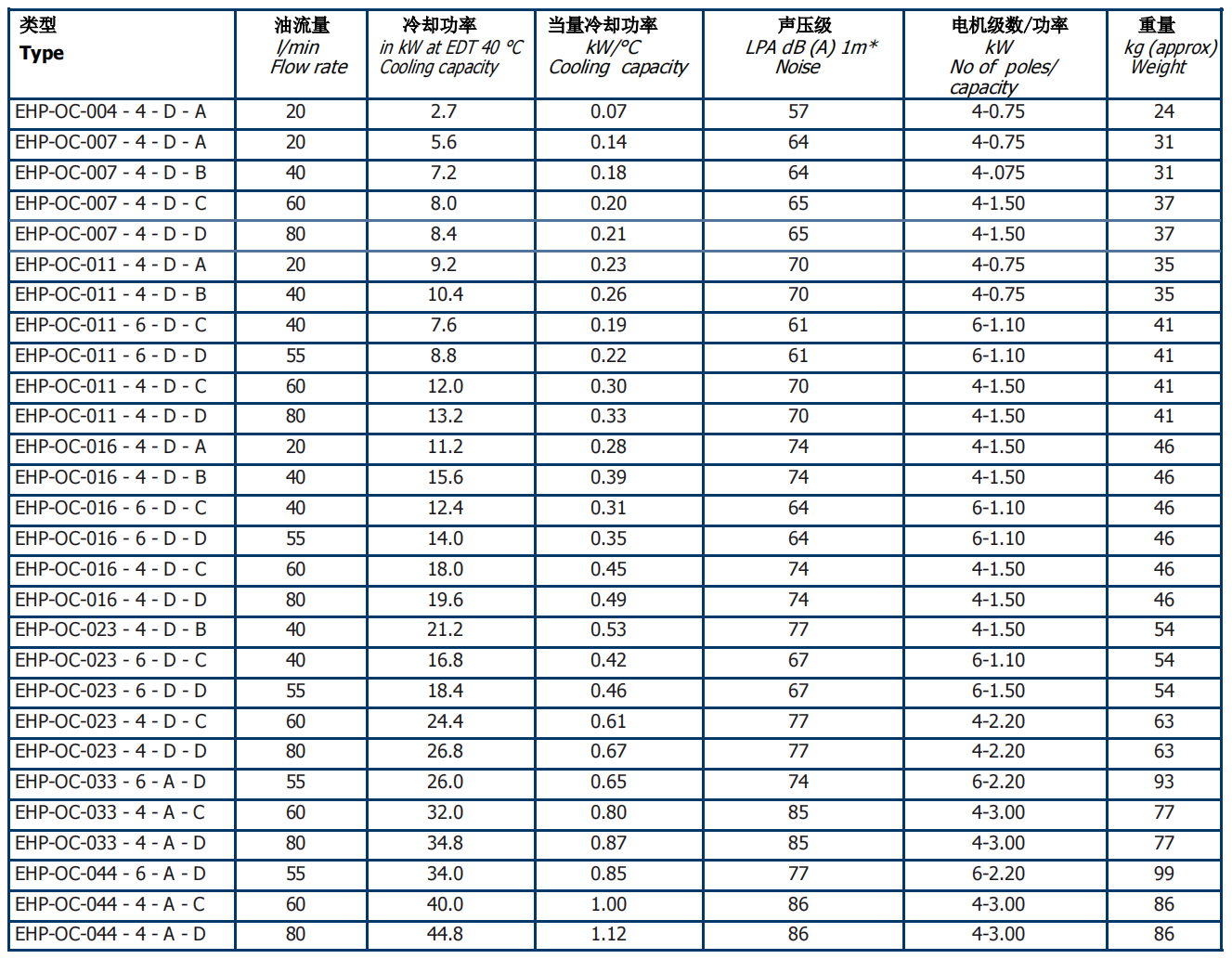 Installation size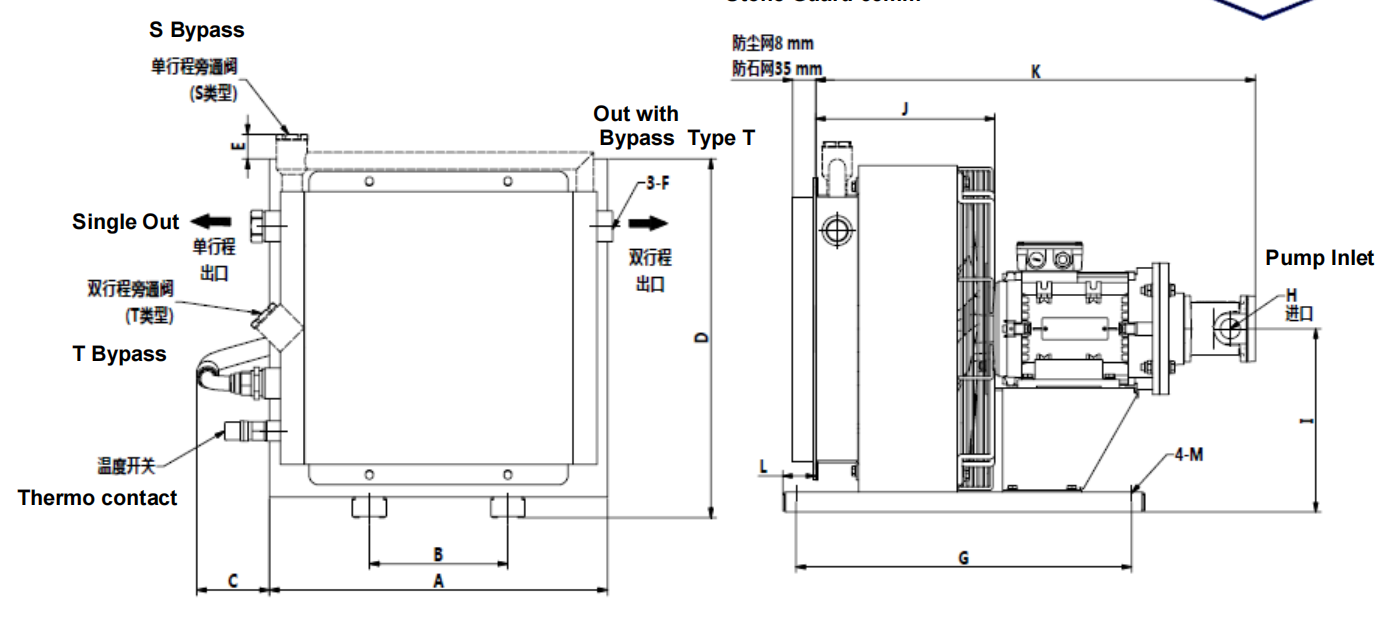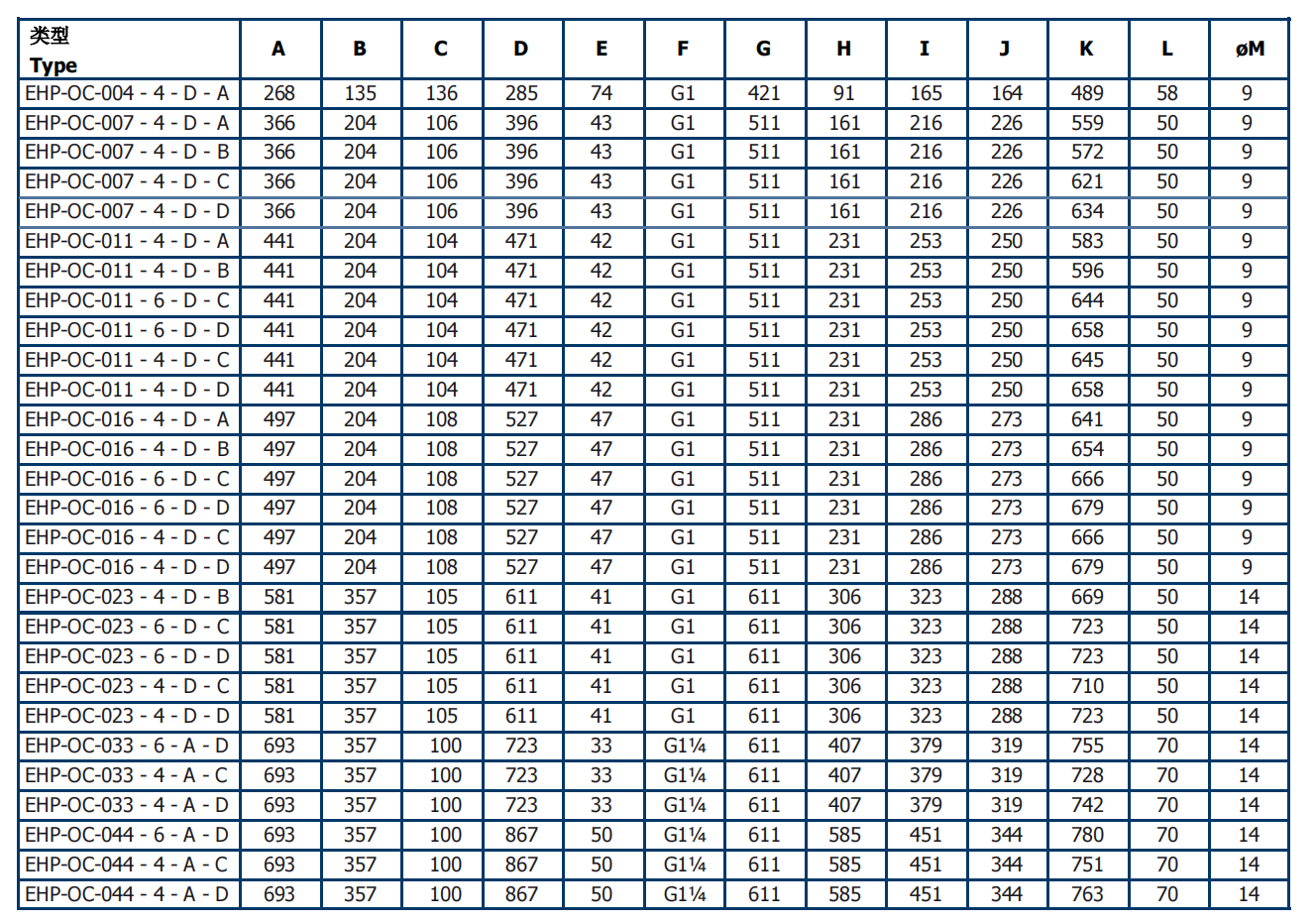 Technical specification
 The major cooling medium of EHP-OC is
synthetic oil, vegetable oil and mineral oil what
is designed according with DIN51524 ,oil's
maximum temperature is 100℃ and viscosity is
 The maximum negative pressure of the
connection of between inlet line and booster oil
well pump is 0.4.The maximum pressure of the
pump's suction side is 0.5bar.
 The maximum working pressure is 10bar,the
distance between the inlet of the pump and
liquid level is not exceed 0.5m, best located
below the surface of the liquid (maximum 5m)
Material
Fan blades/Hub Glass fiber reinforced polypropylene/
Surface treatment Electrostatic ally power
*=the AC motor capacity come from the appointed motor's Calculation at the
maximum working pressure 6bar , oil viscosity 125 cst, frequency 50HZ and the
maximum working pressure 4bar , oil viscosity 125cSt,frequency 50HZ.
If you need more pressure motor ,please contact us to choose suitable power motor.
---
Previous:
Air Oil Cooler With Hydraulic Motor
---
Write your message here and send it to us